FFA expands A-League by two teams
December 13, 2018 by Ben McKay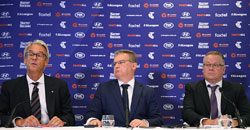 MELBOURNE, AAP - The A-League will expand to 12 teams across the next two seasons after FFA decided to award licences to Western Melbourne and Macarthur South West Sydney.
Western Melbourne Group will enter the league in October - in time for next season - with the Macarthur South West Sydney bid, based in Campbelltown, scheduled to join the 2020/21 campaign.
The decision comes after a protracted and heated fight to join the league, with long-term favourites Team 11, based in Dandenong, one of four shortlisted bids to miss out.
Hopefuls from Canberra, South Melbourne and Sydney-based Southern Expansion have also been overlooked.
FFA chair Chris Nikou said the decision, made in a marathon FFA board meeting on Wednesday, allowed the league to tap into Australia's biggest growth corridors.
"An expanded Hyundai A-League will connect new communities in our two biggest markets, create new rivalries, bigger television audiences, more derbies and importantly, further opportunities for Australian footballers to play at the highest level in this country," he said.
The Western Melbourne outfit will play out of Geelong's Kardinia Park until a purpose-built privately own stadium is completed, with FFA expecting it to be ready in 2022.
Little is known about the bid's big-promising investors, which is part of a major infrastructure proposal in tandem with Wyndham Council.
That private investment, and a bumper licence fee, is understood to have tipped the decision towards Melbourne's West rather than the South-East.
"Football-specific stadia have been extremely successful in league expansion in other parts of the world and we are excited by the prospect of such a facility in Melbourne," Nikou said.
Western Sydney Wanderers, an expansion outfit in their own right, will have new rivals from 2020/21 after the admission of a side from Sydney's South-West.
Their win, which aims to secure former Socceroos captain Mile Jedinak as an inaugural marquee, came after bids from Macarthur and the South-West merged.
FFA chief executive David Gallop said their ready-made broadcast-suitable venue at Campbelltown Stadium was key in landing a licence.
"Macarthur South West is a region with a rich football history that when blended with a fast-growing demography creates an exciting future for the game. A ready-made rectangular stadium will also deliver an enjoyable match day experience for fans," Gallop said.
"Both of the new teams will start their life in the Hyundai A-League in grounds that will allow us and our broadcast partners to present the league in the best possible way and at high quality venues."
The losing bids expressed responses from shock to acceptance.
Southern Expansion claimed FFA acted against their own advice, while South Melbourne, Team 11 and Canberra vowed to fight on for new licenses into the future.
Those aspirations were given heart by Nikou, who vowed to continue growing the league beyond 14 teams.
"At this point that's not the full stop for the expansion process ... it's an ongoing dialogue," he said.