Tiafoe to meet Nadal in Open quarters
January 21, 2019 by John Salvado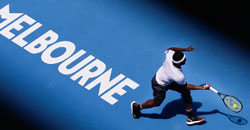 MELBOURNE, AAP - The next chapter in the improbable tennis tale of American showman Frances Tiafoe will be a blockbuster Australian Open quarter-final against the great Rafael Nadal.
"It's crazy man," Tiafoe said on Sunday.
No kidding.
The son of immigrants from war-torn Sierra Leone, Tiafoe was first introduced to the sport at a wealthy tennis centre in Maryland where his father was a maintenance worker.
He arrived at the Australian Open boasting an unimposing 5-11 win-loss record in the majors, with little hint of what was to come.
Tiafoe got the ball rolling last week with a second-round upset of No.5 seed Kevin Anderson.
On Sunday, the American confirmed his status as tennis's new cult hero, marking his 21st birthday in style by beating No.20 seed Grigor Dimitrov 7-5 7-6 (8-6) 6-7 (1-7) 7-5 in the round of 16.
"I obviously wasn't a normal tennis story," said Tiafoe.
"At the beginning of my career, I was playing for them, trying to do everything for my family.
"Obviously now I've put them in a great place and now I'm trying to do it for me."
With a nod to his hero LeBron James, Tiafoe celebrated the win over 2017 Australian Open semi-finalist Dimitrov in trademark style, removing his shirt and screaming loudly, before slapping his right bicep, chest and the court in delight.
"Pop always said 'carry yourself with some confidence always on and off court, whatever you're doing' - he always taught me that," he said.
Tiafoe turned down the option to go to college, choosing instead to hit the professional tour at a young age and help provide for his parents.
"At the academy there were a ton of wealthy guys," he said.
"You had cats rolling in there with chauffeurs, all that.
"Look, I'm not saying you can't make it if you grew up from a wealthy situation - a ton of guys have.
"But obviously that gave me an incentive, a reason to give, a reason to work every day."
The immediate reward is a career-first showdown on Tuesday with 17-time major winner Nadal, who trounced Czech veteran Tomas Berdych 6-0 6-1 7-6 (7-4).
Nadal won his sole Australian Open title a decade ago and has been a losing finalist at Melbourne Park on three other occasions.
Berdych, a two-time semi-finalist at Melbourne Park in 2014 and 2015, spent six months on the sidelines last year with a back injury.
Nadal is also on the comeback trail, playing his first official tournament since withdrawing midway through his US Open semi-final in September with knee soreness.
"He has everything," said Nadal of his impending quarter-final encounter with Tiafoe.
"He's quick. He serve well. Very quick forehand.
"He's a very dynamic player, an aggressive one.
"Of course, he's dangerous - he's in the quarter-finals."