SPORTS BET BLOG
UFC 263:
Israel Adesanya vs. Marvin Vettori 2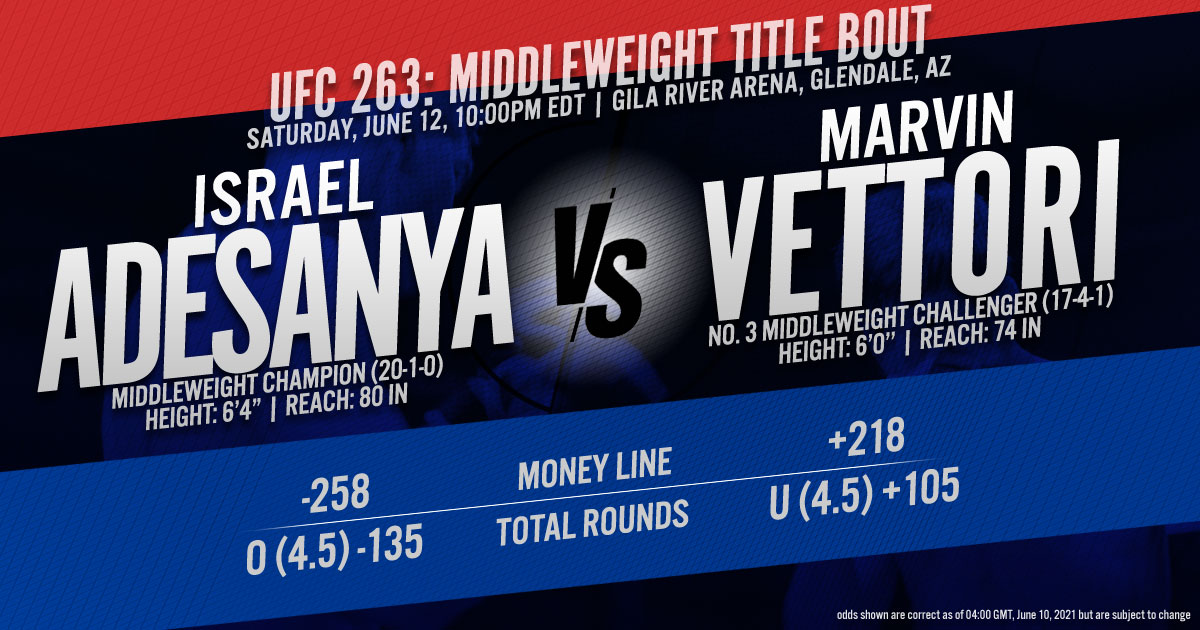 June 10, 2021 by Marc Jerbs
On Saturday, Israel Adesanya will defend his UFC middleweight title against Marvin Vettori in the main card of UFC 263.
The bout will start 10:00PM EDT at the Gila River Arena in Glendale, Arizona.
This would be a rematch between Israel Adesanya and Marvin Vettori.
Both met three years ago at the Octagon wherein Israel Adesanya won via split decision.
After the bout, Israel Adesanya rose into the ranking and is now the UFC middleweight champion.
Likewise, Marvin Vettori didn't let his controversial lose to dampen his spirit as he slowly rose in the middleweight division in order to earn the right as the No. 3 challenger.
Israel Adesanya is coming off his first loss of his career after he climbed to the light heavyweight division to fight Jan Blachowicz at UFC 259.
He was outmatched and was manhandled in a unanimous decision loss.
It was decided for him to went down again at the middleweight division wherein he is at his best.
The sportsbook handicappers have installed Israel Adesanya as the favorite to win over Marvin Vettori in Saturday night's UFC 263.
---
US Triple Crown Last Leg:
153rd Belmont Stakes
June 3, 2021 by Marc Jerbs
On Saturday, the Belmont Park in Elmont, New York will host the last leg of US Triple Crown, the 153rd Belmont Stakes. The Belmont Stakes is a Grade I race for three-year old horses and will cover a total race distance a 1½ miles of the turf-surfaced Belmont Park... read more »
---
2021 NBA Playoffs 1st Round Game 3:
Phoenix Suns vs. Los Angeles Lakers
May 27, 2021 by Marc Jerbs
On Thursday, the Los Angeles Lakers will host the Phoenix Suns in Game 3 of the 2021 NBA Playoffs 1st round. Tip-off is set 10:00PM EDT at the STAPLES Center... read more »
---