SPORTS BET BLOG
2020 MLS is Back Tournament Matchday 3:
Seattle Sounders vs. San Jose Earthquakes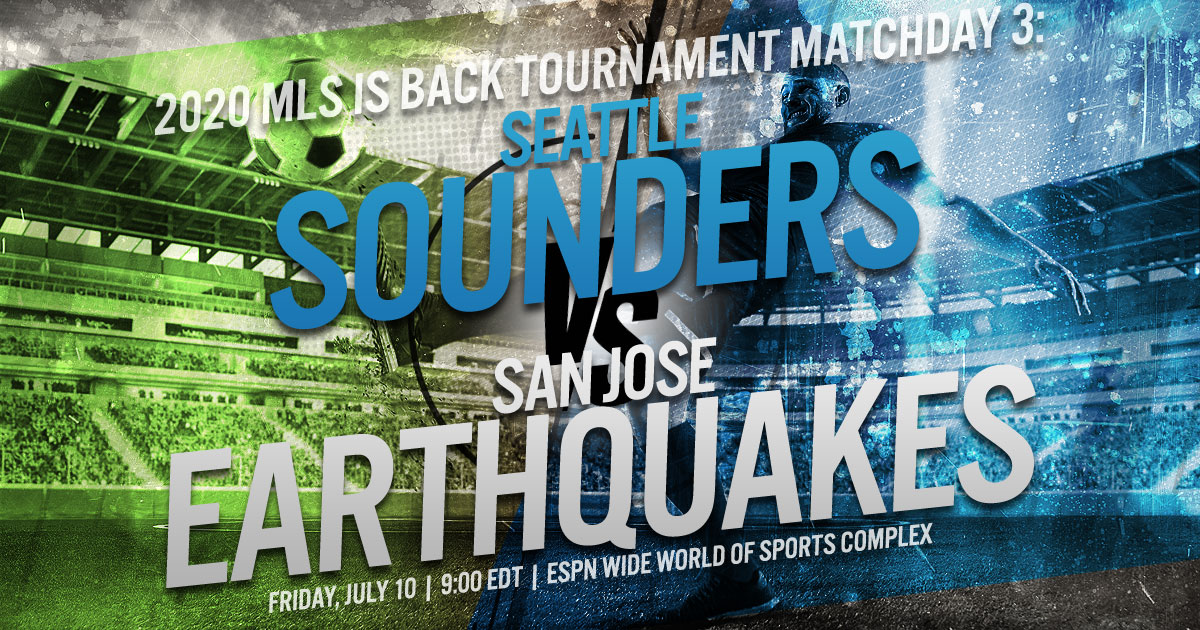 July 09, 2020 by Marc Jerbs
On Friday, the defending MLS champion Seattle Sounders will resume its quest for a back-to-back MLS championship title as they face the San Jose Earthquakes in Group B match of the 2020 MLS is Back Tournament.
Kick-off is set at 9:00 EDT at the ESPN Wide World of Sports Complex.
Seattle added another star power in its lineup as Nicolas Lodeiro returns in the lineup after nursing a hamstring tendinitis.
Newcomer midfielder Joao Paulo and center back Yeimar Gomez Andrade are also expected to contribute on the field.
Coach Brian Schmetzer is expected to tinker a bit of his lineup to accommodate the three players.
San Jose has always given Seattle a tough game when they face each other.
With one season under his belt, coach Matias Almeyda believes that his team has what it takes to topple the defending champions since they have an improved squad compare to last season.
The sportsbook handicappers have installed the Seattle Sounders as the favorites to win against the San Jose Earthquakes on Friday's MLS is Back Tournament Matchday 3.
---
2020 PGA Tour:
Rocket Mortgage Classic
July 02, 2020 by Marc Jerbs
On Thursday, the PGA Tour moves to Detroit, Michigan as the season continues with the Rocket Mortgage Classic. The Detriot Golf Club will host the 4-day golf tournament... read more »
---
SPORTS VIDEOS
2020 LCK Summer Match 30 Highlights:
kt Rolster vs Afreeca Freecs
July 05, 2020
Watch Afreeca Freecs handily beat kt Rolster, 2-0, in their group stage best of three series on Sunday. AF won the first match, 12-4, which lasted 32 minutes. AF again dominated in the second match, 15-3, which lasted 35 minutes. AF (4-2) is currently at fourth while kt (2-4) is at seventh in the ten-team 2020 LCK Summer field. Credits to the video owner.
---