SPORTS BET BLOG
WBO Welterweight Title Fight:
Terence Crawford vs. Amir Khan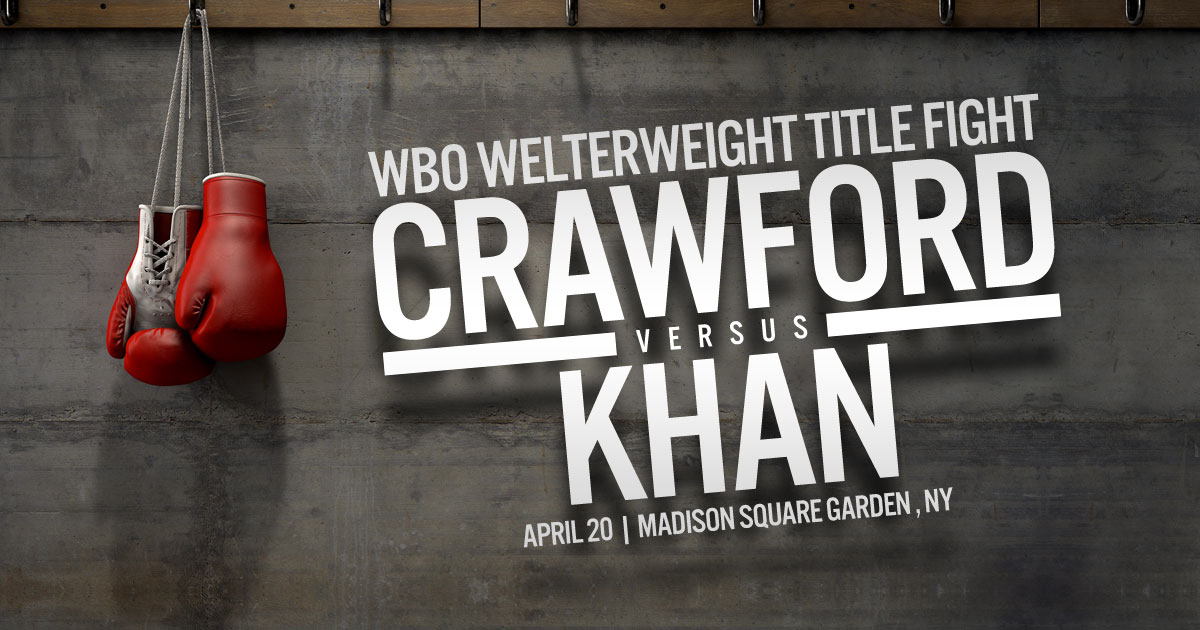 April 17, 2019
On Saturday, 9PM ET, Terence Crawford (34-0, 25 KOs) will stake his WBO welterweight title against Amir Khan (33-4, 20 KOs) at Madison Square Garden in New York.
| Amir Khan | Tale of The Tape | Terence Crawford |
| --- | --- | --- |
| 33 | Wins | 34 |
| 4 | Lost | 0 |
| 20 | KOs | 25 |
| 0 | Draws | 0 |
| 37 | Total Bouts | 34 |
| 54% | KO% | 74% |
| 5'10" | Height | 5'8" |
| 71" | Reach | 70" |
| Orthodox | Stance | Orthodox |
| Bolton, Lancashire, UK | Nationality | Omaha, Nebraska, United States |
| Decmber 8th, 1986 | Date of Birth | September 28th, 1987 |
Crawford has won championships at lightweight, junior welterweight (undisputed) and welterweight since turning pro in 2008.
Meanwhile, Khan has won the WBA/IBF junior welterweight title before going up to welterweight in 2014. He also won a silver medal at the 2004 Olympics before going pro.
Crawford, 31 years old, is looking to keep his unbeaten streak and possibly carve a career like Floyd Mayweather. Khan, 32 years old, is looking to score a monumental upset to cement his legacy as one of the best British boxers.
Pundits acknowledge Khan as an able boxer with lightning-fast hand speed and a wealth of experience. However, they don't give him a fighter's chance against Crawford. Khan's glass chin and suspect defense has been frequently harped on.
Does Khan have enough magic left to have a brilliant performance against arguably one of the best pound for pound boxers today? Reports from Khan's camp say he is relaxed and in phenomenal shape going into fight night in what could possibly be his final title shot.
Crawford is undoubtedly the overwhelming favorite and sportsbooks has him at -1600. But Khan, at +800 is pretty tempting for underdog bettors. After all, nobody gave the Los Angeles Clippers a chance to win against the Golden State Warriors in game 2 of their playoff matchup. The same with the Denver Nuggets against the San Antonio Spurs in their own game 2 playoff matchup.
Will the upset bug jump from the basketball court in to the boxing ring on Saturday night?
---
2019 European / PGA Tour:
The Masters
April 11, 2019
On Thursday, the Augusta National Golf Club in Augusta, Georgia will host the first major golf championship, the Masters Tournament. The Masters has the smallest field of the four major championships. It is an invitational event, players who meet published criteria automatically receive an invitation... read more »
---
College Basketball Tournament:
Final Four
April 04, 2019
On Saturday, the stage is all set for the College Basketball Tournament's Final Four at the U.S. Bank Stadium in Minneapolis, Minnesota. The last four remaining college basketball team will vie for the prestigious seat at the National Championship title game on April 8... read more »
---
SPORTS VIDEOS
Full Game Highlights:
OKC Thunder vs Portland Trail Blazers (Game 2)
April 16, 2019
Watch the Portland Trail Blazers go up 2-0 against the Oklahoma City Thunder with a 114-94 home win on Tuesday. Credits to the video owner.
---