SPORTS BET BLOG
2020 NBA Western Conference Finals Game 4:
Los Angeles Lakers vs. Denver Nuggets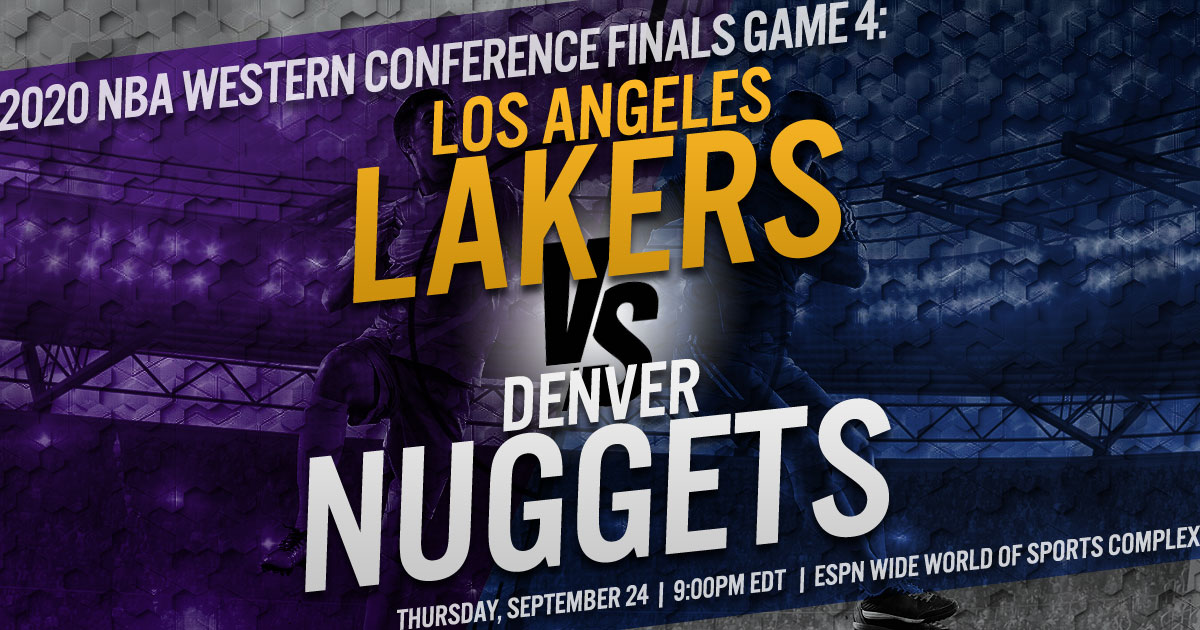 September 24, 2020 by Marc Jerbs
On Thursday, the Denver Nuggets will face the Los Angeles Lakers in Game 4 of the NBA Western Conference Finals.
Tip-off is set 9:00PM EDT at the ESPN Wide World of Sports Complex.
The Los Angeles Lakers will try to take a commanding lead in Western Conference Finals against the Denver Nuggets.
Winning Game 4 will give them a 3-1 lead in the series and a game away from the 2020 NBA Finals.
Handling the ball well and fouling less is what the Lakers needed to win Game 4 after absorbing their first loss in the series.
The Denver Nuggets would want to level the series in Game 4.
In their last two playoff series against the Jazz and Clippers, they fell behind 3-1 but won each series by winning four straight games.
Playing with a relaxed mindset and aggressive defense have brought out the best for Nikola Jovic and Jamal Murray.
It helped them win their previous playoff series and this could also be the case against the Lakers.
The sportsbook handicappers have installed the Los Angeles Lakers as the favorites to against the Denver Nuggets in Game 4 of the Western Conference Finals on Thursday night.
---
2020-21 PGA Tour:
120th US Open Championship
September 17, 2020 by Marc Jerbs
On Thursday, the PGA Tour will host its 2nd major tournament of the season, the 120th US Open Championship. The four-day tournament will be played at the Winged Foot Golf Club in Mamaroneck, New York... read more »
---
2020 NFL Season Week 1:
Kansas City Chiefs vs. Houston Texans
September 10, 2020 by Marc Jerbs
On Thursday, the 2020 NFL season will push through as scheduled and opening game will feature the defending Super Bowl champions Kansas City Chiefs against the Houston Texans... read more »
---
SPORTS VIDEOS
2020 NBA Western Conference Finals Game 3:
Denver Nuggets win against Los Angeles Lakers
September 22, 2020
Watch Jamal Murray (28 points, 12 assists, 8 rebounds) lead the Denver Nuggets past the Los Angeles Lakers, 114-106, in game 3 of their best of seven series at the ESPN Wide World of Sports Complex on Tuesday night. Denver's Jerami Grant had a career night with 26 points while Nikola Jokic added 22. The Nuggets led by as much as 20 points at the 10:36 mark in the 4th quarter but the Lakers mounted a comeback to cut the lead to just 3 with 5:26 to go. But Murray made buttery smooth jumpers to seal the win for Denver. Credits to the video owner.
---