SPORTS BET BLOG
2022 NFL Preseason Week 2:
Chicago Bears vs. Seattle Seahawks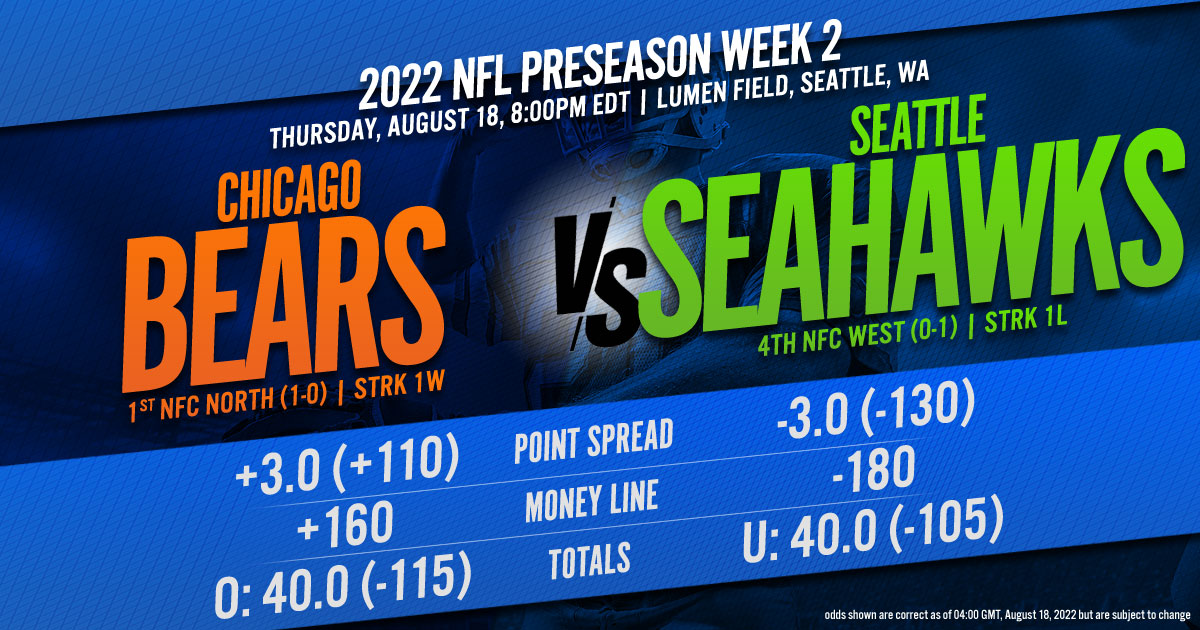 August 18, 2022 by Marc Jerbs
On Thursday, the Chicago Bears will face the Seattle Seahawks in Week 2 of the 2022 NFL Preseason.
Kick-off is set 8:00PM EDT at Lumen Field in Seattle, WA.
The Chicago Bears opened up their preseason with a 19-14 win over the Kansas City Chiefs at home last Saturday.
They put together a solid preseason opener with their rushing plays and limited the Chiefs to just 3.3 yards per play.
It was the first win of new head coach Matt Eberflus and he expects more with his team when they play Seattle next.
The Seattle Seahawks is coming off a last-second loss to the Pittsburgh Steelers last Saturday.
They will play at home and look forward to rebound with a win against Seattle.
The Seahawks will be without QB Drew Lock after testing positive for COVID-19 last Tuesday night.
It will be starter Geno Smith and third QB Jacob Eason who will play alternately against the Chicago Bears.
The sportsbook handicappers have installed the Seattle Seahawks as the favorite to win against the Chicago Bears on Thursday night.
---
2022 NFL Preseason Week 1:
New York Giants vs. New England Patriots
August 11, 2022 by Marc Jerbs
On Thursday, the 2022 NFL Preseason officially starts with its opening Week 1 match between the New York Giants and New England Patriots. Kick-off is set 7:00PM EDT at Gillette Stadium in Foxborough, MA.... read more »
---
2022 NFL Hall of Fame Game:
Jacksonville Jaguars vs. Las Vegas Raiders
August 4, 2022 by Marc Jerbs
On Thursday, the 2022 NFL Hall of Fame Game will signal the start of the NFL season. Kick-off is set 8:00PM EDT at the Tom Benson Hall of Fame Stadium in Canton, OH... read more »
---