SPORTS BET BLOG
2023 NBA Finals:
Miami Heat vs. Denver Nuggets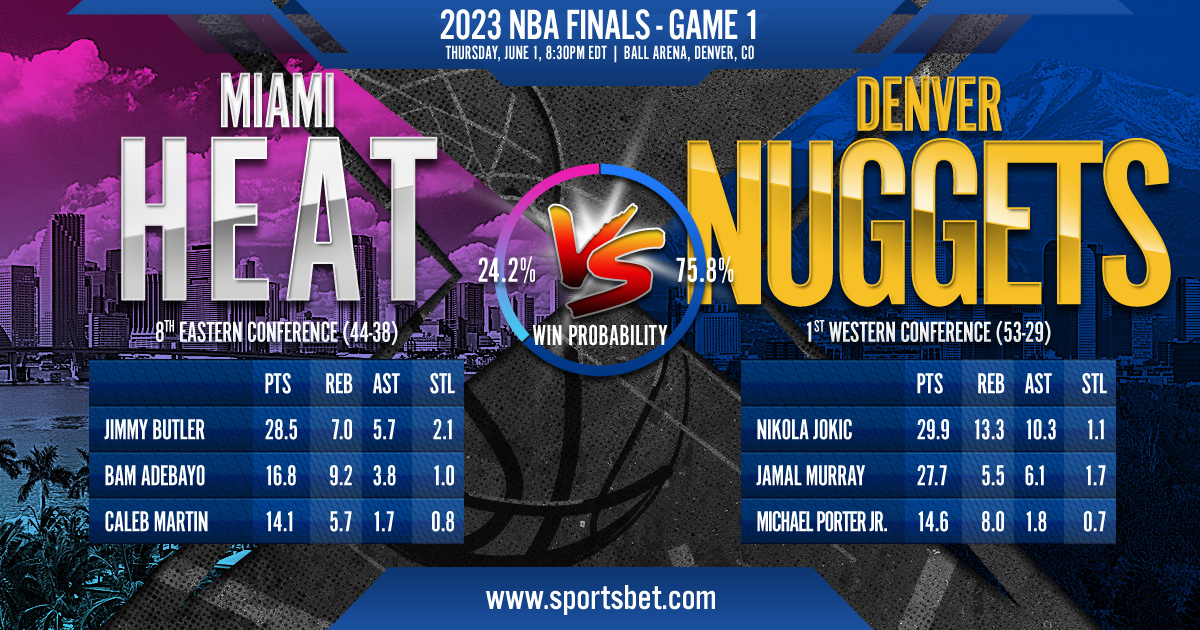 June 1, 2023 by Marc Jerbs
On Thursday, the Denver Nuggets will host Game 1 of the 2023 NBA Finals against the Miami Heat.
Game time is set 8:30PM EDT at Ball Arena in Denver, CO.
The Denver Nuggets had to wait a little while before they knew their opponent in the NBA Finals.
The Nuggets swept the Lakers to win the Western Conference title.
It was a luxury for them to finish their matchup for well-deserved rest but it was further extended when the Eastern Conference Finals went straight to a Game 7.
Denver's long rest could be a double edge sword for the them.
Injuries and body aches from their players could have been cured but rust set in and playing momentum could have been derailed.
The Miami Heat barged into the NBA Finals just like what their leader Jimmy Butler had guaranteed.
They were pushed by the Boston Celtics to a Game 7 after an early 3-0 series lead.
Jimmy Butler's goal is set get his 1st NBA title and give the Heat's 4th NBA title as a franchise.
The Denver Nuggets is the top seed in the NBA and this is a huge challenge for Jimmy Butler in the Heat.
But this is nothing new as they have defeated 3 Eastern Conference teams which is more superior than Miami.
The sportsbook handicappers have installed the Denver Nuggets as the favorites to win over the Miami Heat in Game 1 of the 2023 NBA Finals on Thursday night at their home floor.
---
2023 NBA Eastern Conference Finals:
Boston Celtics vs. Miami Heat
May 25, 2023 by Marc Jerbs
On Thursday, the Boston Celtics will face the Miami Heat in Game 5 of the 2023 NBA Eastern Conference Finals. Game time is set 8:30PM EDT at the TD Garden in Boston, MA. Miami leads the series, 3-1... read more »
---
2023 NBA Western Conference Finals Game 2:
Los Angeles Lakers vs. Denver Nuggets
May 18, 2023 by Marc Jerbs
On Thursday, the Los Angeles Lakers will face the Denver Nuggets in Game 2 of the 2023 NBA Western Conference Finals. Game time is set 8:30PM EDT at the Ball Arena in Denver Colorado. Denver leads the series, 1-0... read more »
---